With peak fall and holiday seasons around the corner there appears to be little prospect of a return to normal container shipping rates this side of next year's lunar holiday.
Fortunately, spikes [Fig 1] of this magnitude are few and far between, and while problematic for the industry at large, are particularly so for shippers desperate to secure bookings.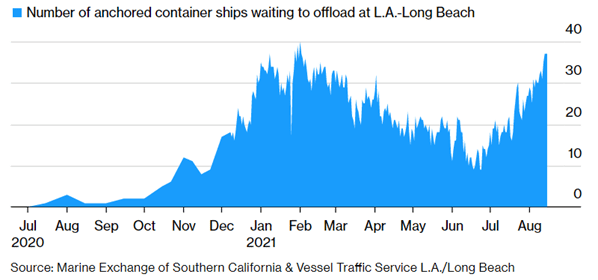 Fig 1: L.A./Long Beach Shipping Congestion
On the other hand, the container carriers are reaping the rewards by "making hay while the sun shines". The accompanying EBITDA, Gross Margin and year on year revenue growth illustrate this fact in [Fig 2].

Fig 2: Container Carriers Financial Performance
Some carriers seem to embrace Gordon Gekko's (Wallstreet), "Greed is good" mantra, actively switching capacity towards more lucrative European and US import channels at every opportunity, triggering intense regulatory scrutiny from the US Government. For example, with its recent appointment of a Port Envoy. This sets up an interesting situation for all shippers desperate to replenish record low stocking levels (e.g., circa 1-month supply for retail) irrespective of any contractual arrangements they may already have in place with carriers.
At time of writing, container rates were running up to six times normal levels [Fig 3] due to continuing strong retail demand and capacity restrictions directly tied to the pandemic. notwithstanding the incident in the Suez Canal which further added to container traffic woes earlier this year.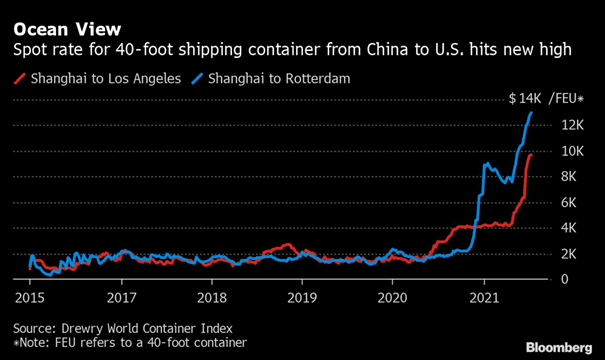 Fig 3: Container Rates
So, what's going on?
In the US for example, as elsewhere the shift to working from home combined with lockdown restrictions, has allowed homeworkers to accumulate savings from reduced services spending during lockdown. These savings have and continue to be put to use on all manner of home improvement goods including home office fit outs, triggering a fundamental shift away from services into goods and pushing up demand for container services to the current highs.
At the same time the virus continues to flare up sporadically, knocking out key capacity in the global freight handling network. In a normal world the overall growth in container traffic which we estimate in the 5-6% range would not be a problem were it not for the pandemic where key resources and thus capacity are sporadically taken out of action. This we believe accounts for somewhere in the 10-15% capacity range, a significant drain on the cargo networks. particularly when combined with the spikes in container traffic which we estimate somewhere in the 30-40% range on specific lanes.
As vaccination programs continue to be rolled out across the cargo networks, we expect to see the capacity situation settle back to normal levels of 2-3% idle over the next six to nine months. Similarly, after the upcoming holiday season and with the continuing withdrawal of social restrictions, we expect services spending to continue back as communities re-establish confidence in travel and socialising. This all assumes no major unforeseen setbacks to the current pandemic recovery programs that are taking place throughout the global supply chain network.
What can shippers do to alleviate pressure?
It takes time to bring on new shipping capacity, the container shipping's order book-to-fleet ratio, is somewhere in the 15-20% which is significantly up from single figures at the beginning of the year, and as is the nature of these large capital programs will arrive too late to alleviate the current crisis. Earlier this summer, Home Depot (link) chartered its own ship as a workaround to the current difficulties which may be a sign of what's to come from other high volume shippers.
The carriers themselves [Fig4] provide some interesting insights when they talk about binding ever closer to their "strategic customers" which doesn't bode well for anyone outside that category i.e., the vast majority of shippers. To that end one possibility is capacity pooling where shippers take advantage of the greater buying power available through connected networks.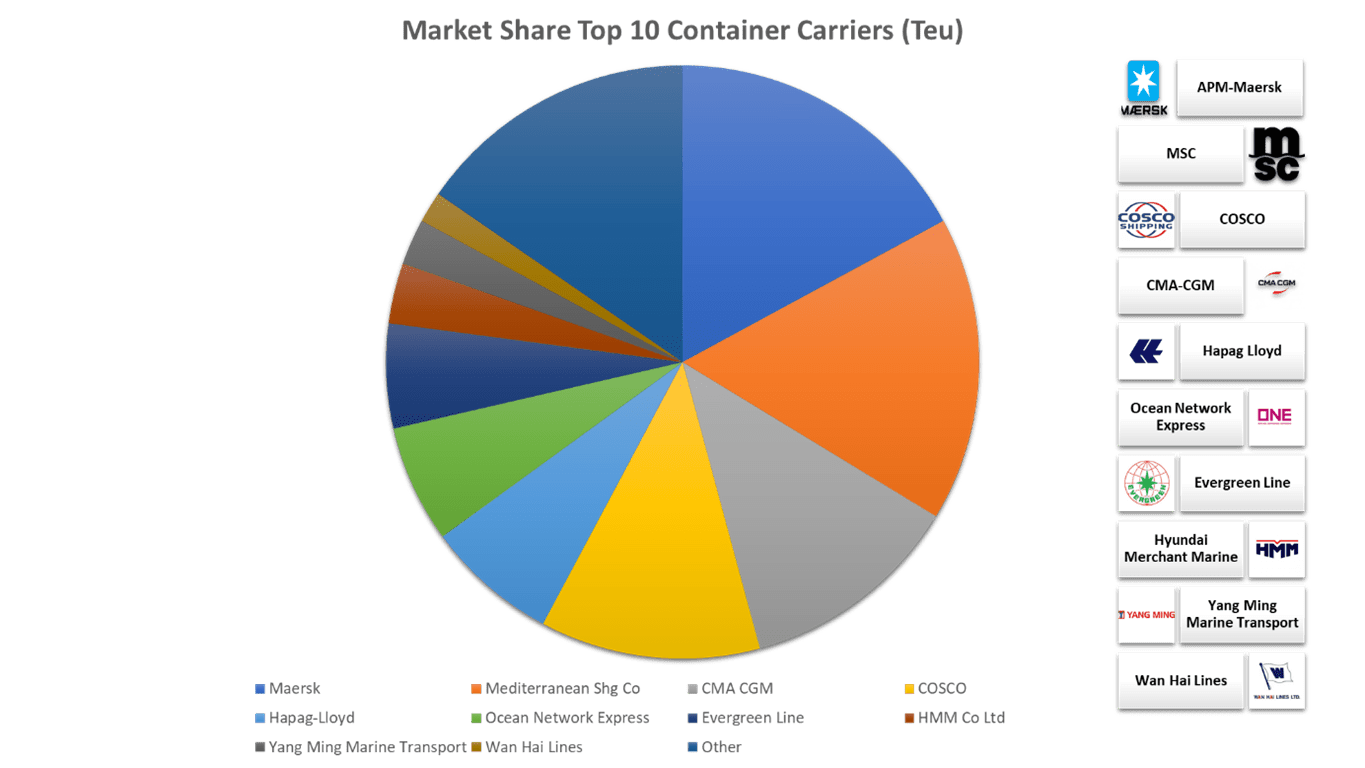 Fig 4: Top 10 Container Carriers by TEU
Whether strategic or not, shippers need to pay particular attention to the terms of their service contracts with carriers, particularly in relation to premiums and priority access rights. From our experience we recognise considerable skill gaps where shippers simply do not understand their terms and conditions of shipping and in many cases do not understand their invoices. Together these form a significant barrier to performance and competitiveness that can and should be addressed through smarter buying, contract negotiation and carrier relationship management.
The other big talking point amongst the carriers is the growing importance of "Digital" and the continuing transformation of their service models through interconnected networks offering real-time visibility, systematic service selection and management, spot bidding and AI in the form of predictive analytics that should help steer clear of Suez Canal type blockages in the future.
The current container shipping situation highlights the very real need for careful consideration of sourcing strategy and the weighing up of nearshoring opportunities that can minimise cost, lead-time and business risk.
There is a mind-boggling array of technology available to inform decision making, simplify carrier management, improve service performance, reduce costs, and educate shippers.
Meet your author Julian Carroll, Vice President Service Solutions at Titan Solutions

Julian equips customers to compete within the digital economy. This activity spans Europe (including the UK), the USA and Asia with tailored e-commerce, 4PL and other services that are continuously evolving in response to Brexit, COVID-19 and the ever-accelerating pace of supply chain digitalisation.

Leading a dynamic team of supply chain specialists and service partners, he helps companies to understand, deploy and reap the benefits of emerging "Digital Technologies" within their supply chain networks across many diverse business sectors (Consumer, Retail, Life sciences, eCommerce, Aerospace and Technology to name a few).

Connect on LinkedIn
Connect with Julian if you would like to explore the benefits of Digital to your container carrier management process
Topics from this blog: supply chain optimisation News Data Analytics